The entire world is going through testing times and all of us have suffered individually at some point or other. The pandemic caught us unprepared, but the human penchant to survive overpowers everything.
Education shapes the future and today's students are tomorrow's leaders. Juana Tech firmly supports schools and their students in these tough times and has also brought to you JuanaTech's Virtual Classroom – a one-stop solution for all your learning and teaching needs.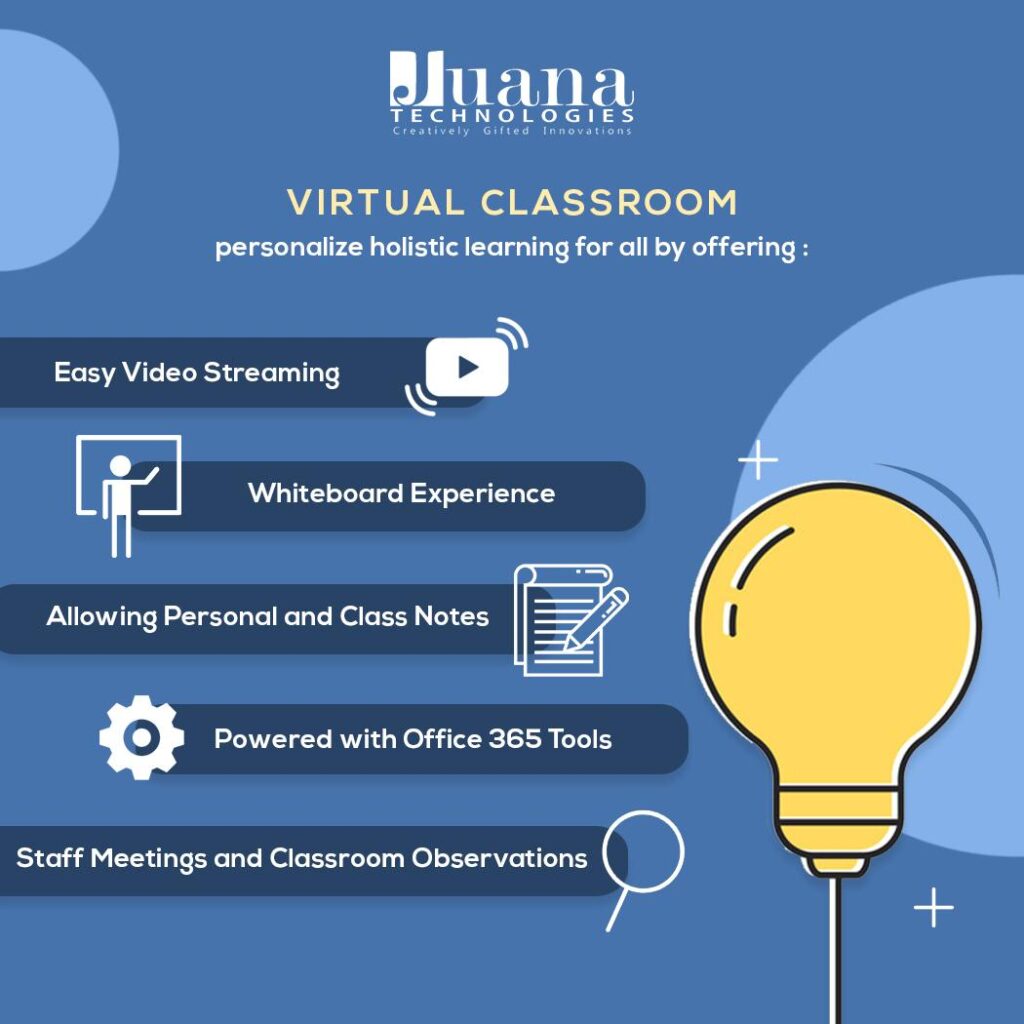 The vision of Juana Technologies, along with the trust of Microsoft, has crafted Juana Tech's Virtual Classroom. Mounted on Microsoft Teams, the Virtual Classroom solution gives access to various life-changing Office 365 tools including Teams, OneNote, SharePoint among many others. Our Virtual Classroom solution works on the principle of 'One hub – everyone connected', i.e. we provide a centralized hub for all your schooling activities. Solving equations, noting down solutions, marking important topics, assignment submissions, grading, and even club activities can be done with our Virtual Classroom Solution!
We at Juana Tech, want you to make the maximum use of your time and resources. Therefore, to deliver you all the ease and comfort that you deserve, our experts provide training sessions for the teachers. Just like a normal classroom, the teachers can have all the facilities at their disposal through our Online Education software/solution. Students will be able to enjoy the perks of holistic learning, once again by learning and collaborating with fellow students and teachers. Even staff meetings can be hosted through our Digital classroom solution, so that they may collaborate for discussing teaching content, assessment questions and exercises.
All work and no play, makes Jack a dull boy. Indeed, school going online should not mean that it is only about classroom, assignments and exams. The learnings through fun and participation shall not cease either. Therefore, our Virtual Classroom solutions assures that all the club activities keep running too. Organize your quizzes, debates, elocution, singing, dancing, painting competitions online and let the fun never stop! The schools get to do all this, along with year-long technical support from our experts.
Best part? All of this & more at less than Rs. 99 per day!
To know more, click here.