The World we know right now is going through profound changes! Things may never be the same after the pandemic recedes. The Students of this country are the future of the nation and they need to keep up with these changes. Exposure is the key here and the fact that schools are shifting to online mediums makes exposure a tad bit tough. Besides, the expectations of schools and teachers are changing, and industry needs people with new age skills. The gap between teachers and students is plenty and it is only growing in the current situation.
Hence, we conceptualized "CITYSCAPES" – A 9-episode long series, where 2 students from different cities of the country engage in a candid conversation with the Industry leaders. The quest was not only finding the answers to some really crucial questions, but also about spreading the word to every single student in the country. So, the campaign is live on our YouTube channel, tune in! You surely don't want to miss updates on Cityscapes, do check out our Instagram page, we are regularly posting there.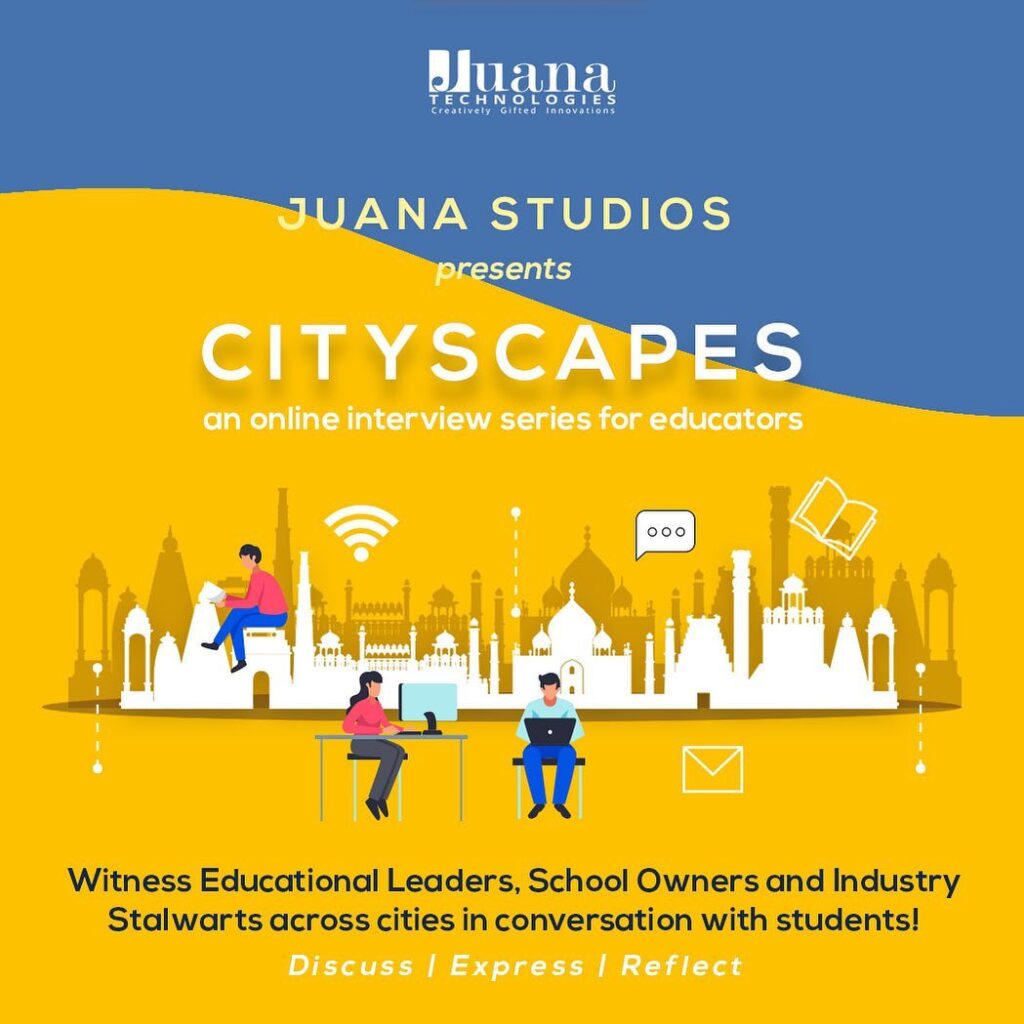 "Who are these leaders?" – You must be wondering that. We have managed to find the best people in the industry for you!
The recipient of the Global Leadership in Education Award (2016) from the Education Council of India, Fullbright Fellowship ILEP Award (2015), and the Pearson Teaching Award (2013) – Ms. Kashmira Jaiswal, currently the Vice Principal of Navrachna School, Sama, Vadodra, will take you through her journey as a school leader and put forward her views on education in the pandemic situation. Ojaswi Niyogi and Shashwat S Nair – two of the brightest kids will make sure they ask all the right questions.
The co-author of three series of History and Civics textbooks for Classes 3 to 8 published by Oxford University Press, Ms. Amita Prasad, is the director of Indus Valley School, Kolkata. Viraj Singh and Jennissa Gupta will have an interesting conversation with her wherein they will get to know about her inspirational journey and her take on the changing education landscape.
Ms. Nisha Bhaskar, best known for her 'Best Educationist Award' in the year 2012 and one of the 'Asia's greatest leaders of 2019' is currently the principal of Navayuga World School, Nellor. She will take us through her journey of being an educationist for the last 2 decades. Brinda Banerjee and Siddhant Singh will definitely make the conversation very engaging and the episode will leave you with lifelong learnings.
We will hear from Mr. Sudhanshu Sharma, Principal, Green Field Senior Secondary School, Kangra, Himachal Pradesh, who aspires to establish his school as a Modern Hub of Technological Education for the 21st century. Paridhi Gupta and Roshni Dhar will engage in a conversation with him and will find out how his students have made it to international institutions like NASA! This episode will certainly fill you with positivity.
The fact that she received appreciation certificate from UNESCO club for her outstanding work in the field of education speaks volumes about Ms. Barninder Paul. She is the director of Gyanmanthan Educational Services Private Limited, Bhatinda, Punjab. Catch her in a conversation with Eka Narayan and Kavya Rastogi, discussing about online classroom learnings and effects of COVID on future of Education. This session will leave you with important insights about how the education in your city will be impacted by COVID.
A leading Edupreneur, an Eminent Writer and an enthusiastic Philanthropist – Mr. Anirudh Gupta, currently the CEO of DCM group of schools, Punjab will join Cityscapes to talk about his leadership journey. Samaira Kashyap and Shaunkhamala Banerjee will engage in an interesting conversation with him about how the current situation shapes the future of education. He has been conferred with prestigious awards like Educational Entrepreneur of the Year -2016 by Indian Education Congress, National Education Excellence Award by Global Leaders Foundation and Most Distinguished Leader of the Year 2018 and Exceptional Educator by American Board. You will be in for a very insightful and resourceful session in this episode.
A young educationist with a marketing bend – Abhishek Goel, is the Owner of Kaysons Group which include Venkateshwara International School, Dwarka, G.D. Goenka Public School, Rohini and Vishal Bharti Public School, Paschim Vihar. Moinak Das and Chaitanya Prasheel will have an engaging conversation with him to discuss his journey as a leader and explore the effect of COVID on the pedagogy and teaching methods. He is known for being awarded as the 'Power Icon' by 'Times on India' and this session will certainly be a learning avenue for all of us.
The recipient of 'Principal of the Year – India' by India Today and NDTV Education award, Ms. Seema Sapru, is currently appointed as the Principal of The Heritage School, Kolkata. Having been in the education industry for the last 30 years, she has a plenty of experiences and learnings to share with Anushka Bansal and Khushi Purohit. Catch her discussing about her leadership journey and the changes that the teaching methods will go through in this pandemic situation.
Technology is the flagbearer of change in the current times and who better to tell us all about it than Mr. Shailendra Jha, the CEO of InFocus Mobile Brand, a Foxconn group company. He has a rich career of 2 decades in the electronics and telecommunication market and he will discuss his leadership experiences with Annika Sarkar and Vandita Rawat.
The Cityscapes experience is something that all the teachers and students will find very relevant and interesting. The entire spectrum of questions and topics that should be addressed in the current times has been discussed!
Do tune in, learn from the experts and share the knowledge around with your friends and family.