Technology in Education
Powered by Microsoft
We are Microsoft Authorized Education Partners in India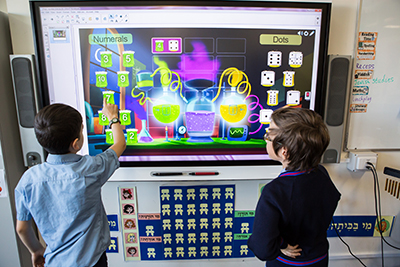 The world's leading education software
It makes creating interactive lessons that students enjoy quick and easy. You can tailor your lesson content to any grade level and subject in a few minutes. With SMART Notebook, you can also track student progress on the fly with formative assessment tools, and incorporate the devices students love into the classroom experience.
You can even install SMART Notebook on your home computers, so you can prepare lessons anytime.
Easy lesson sharing
Teachers can easily send SMART Notebook lessons from anywhere to any SMART Board with iQ. You can also share lessons by emailing a link.
Create lessons in minutes
SMART lab has an array of customizable activities and themes. It's fun, engaging and you can access it from Notebook with one click.
Free lesson resources
SMART Exchange houses 60,000+ free resources and connects you to a community of educators. Access it directly from Notebook.
Assessment
SMART response 2 is a quick and easy way to conduct formative assessments. Access it from Notebook with one click.
Math-specific tools: Geogebra
Geogebra provides powerful tools for all grade levels, including easy equation editing, 55,000+ math objects and activities for geometry, algebra, calculus and statistics.
Record your lesson
SMART Notebook Recorder allows you to record your lesson, so students can replay it to learn at their own pace, inside or outside the classroom.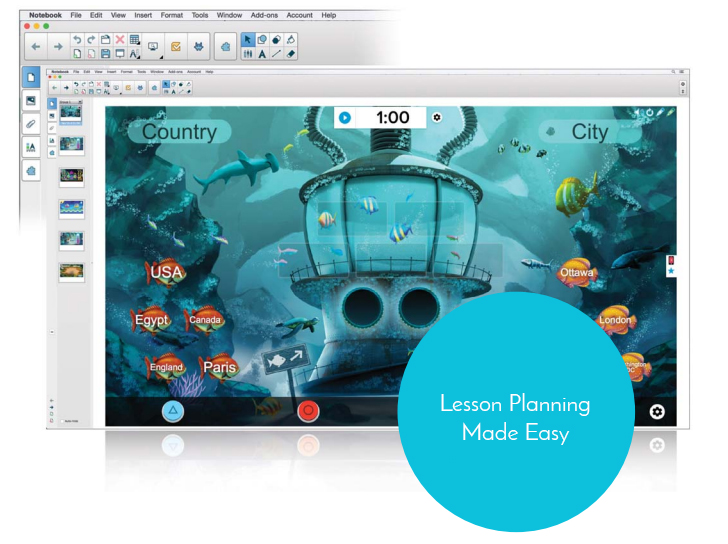 Create lessons in minutes
SMART lab™ gives teachers the means to quickly build game-based
activities and get timely insight into students' understanding.
1
Select your activity
Engage students with a variety different activity templates… and more that are on the way.
2
Customize your content
Use the Creation Wizard to easily write new game content or load existing content in just a few minutes.
3
Start playing
Push the lesson out to student devices, or have students play it on your interactive display – either option works!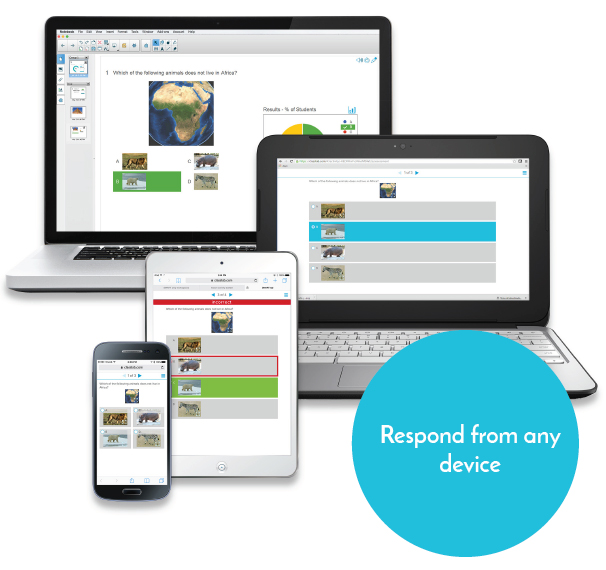 Quick and effective formative assessment
What better way to ensure student success than to instantly see how well they've understood a lesson? Create a question set to complement your lesson in just a few minutes. Students answer the questions on their desktop computers, laptops, tablets or phones. Teachers get an instant report (in a pie graph or word cloud), as well as the ability to export those results.
1
Select your question type
Add multiple choice or text-based questions that ask students to type their answer. The simple interface allows you to create the full assessment in a few minutes.
2
Students respond
Students can respond to questions using desktop computers, laptops, Chromebooks, tablets and phones.
3
Review results
Teachers get an instant report (in a pie graph or word cloud), as well as an aggregate of how the class performed in a spreadsheet. The report includes performance by question and can be exported to existing gradebooks.
https://juanatech.com/wp-content